I thought that my recently concluded road trip to Naga City, Bicol, would be a test of endurance. Instead, it was an affirmation of faith.

I fell in love with Naga even before I got there. Penafrancia Tours has such excellent buses that even the one I ended up taking, which wasn't supposed to be their premiere bus service, conducted me from Manila to Naga comfortably. There are only two seats per row on each side of the bus, and these seats were both well-cushioned and well-proportioned. Moreover, the video player that they installed on the bus was excellent. The movie never skipped or stalled throughout the trip, which was more than can be said for me. Due to the meager offerings onscreen, one of which featured the Queen of Assembly Line Romantic Comedies, Katherine Heigl, I sort of watched two and a half movies. The sleep which normally eludes me in Metro Manila snuck up on me during the 9 hour trek, which was a welcome surprise. And so, I got to Naga refreshed and just a little hungry.

Make that a whole lot hungry. Fortunately, my friend Derek Forbes brought us to Naga's finest hotel, Avenue Plaza Hotel along Magsaysay Avenue. I had one of their signature dishes, Bagnet with Bicol Express, which was succulent, crunchy and spicy.

After finishing some work, I proceeded to Crown Hotel along Francia for even more rest. While the Crown Hotel isn't as luxurious as Avenue Park, it is conveniently located in the heart of the city, and the rooms are clean and well-maintained. I've always maintained that the quality of a hotel can be gleaned from the quality of their bathrooms, and Crown Hotel did not disappoint. While their bathrooms are small, they are clean, well-designed and the faucets dispense hot and cold water almost immediately.

But the true beauty of Naga is revealed only in prayer. I love the fact that there is a church (both Catholic and non-Catholic) within a five minute commute of the city center. I love the fact that the churches I visited subject all visitors to the following experience the closer that they get to the heart of worship: inviting, then solemn, and finally intimate.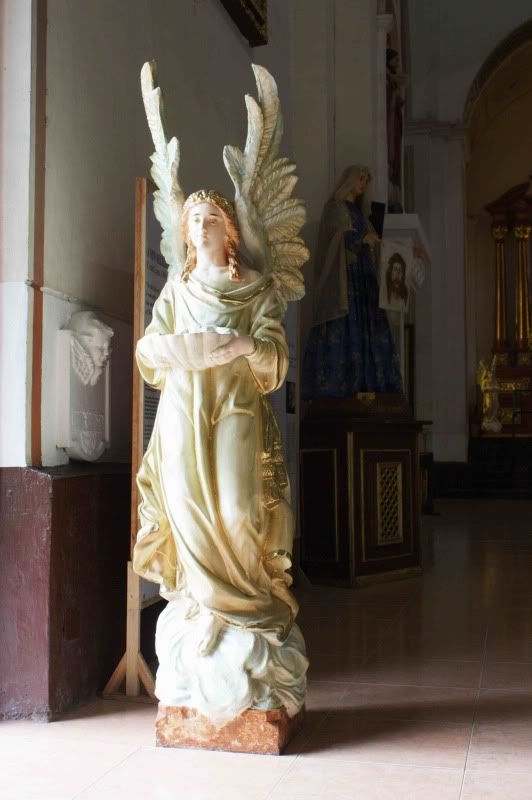 Angel in Our Lady of Peñarancia
And because I have ceased to entertain the vanity that my words could do a better job of recreating the wonderful sense of discovery that accompanies encountering a place for the first time, especially through prayer, let me leave you with two of my favorite Naga pics.

Enjoy!